Posted under:
Root Canal
Posted on: December 15, 2021
Understanding Sensitive Teeth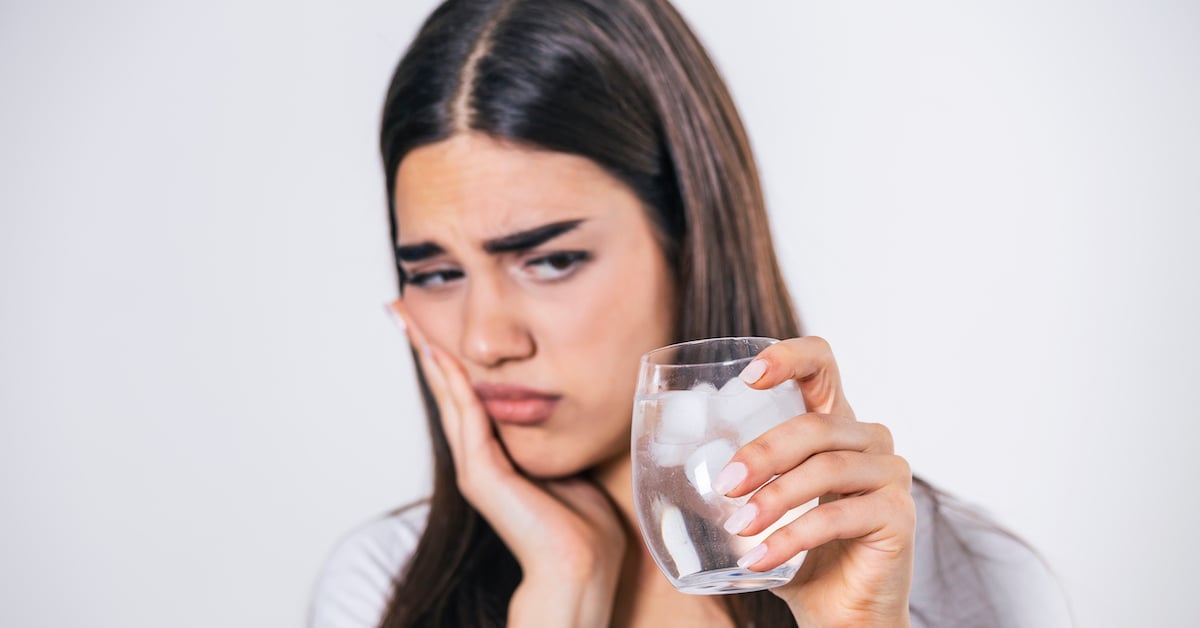 Does taking a sip of coffee or eating ice cream make you wince occasionally? If you find yourself frequently avoiding many of your favorite hot and cold foods and drinks, you're likely suffering from sensitive teeth.
The pain from sensitive teeth can range from a mild twinge to severe discomfort that lasts for several hours. Many people describe sensitive teeth pain as a sharp, sudden pain that shoots deep into the affected tooth. Hot and cold foods and drinks are common triggers for sensitive tooth pain, although there are many other potential triggers, including breathing in cold air, and drinking or eating anything acidic, sweet, or sour.
Common Causes Of Sensitive Teeth
Sensitive teeth develop when the protective layers of your teeth start to wear away. The part of your teeth that visible above the gum line is called the crown, and they're covered with a strong, protective layer called enamel. Tooth roots are found below the gum line, and these are protected by hard connective tissue called cementum. Dentin is the layer that's found underneath the enamel and cementum, and it contains tiny canals that lead to the nerves and cells deep inside of teeth.
Dentin becomes exposed when the enamel or cementum wears away. When this occurs, the canals allow hot, cold, or acidic foods and drinks to stimulate the nerves in your teeth, creating sensitivity and pain.
Several factors can cause enamel erosion, which can lead to tooth sensitivity and discomfort. Take a look at the nine most common issues that cause tooth sensitivity:
Frequently eating or drinking acidic foods: Regularly eating or drinking acidic foods and beverages can cause your tooth enamel to erode, increasing your risk of developing sensitive teeth. Lemons and other citrus fruits, tomatoes, tea, and coffee are just a few examples of foods and drinks with high acid levels.
Using mouthwash: Some over-the-counter mouthwashes contain high amounts of alcohol or other irritating ingredients that can make your teeth sensitive over the long term. If you already have sensitive teeth, these types of products can make the problem worse.
Using whitening toothpaste: Tooth sensitivity is a frequent problem associated with using whitening toothpaste and other over-the-counter whitening products. Many of these products contain peroxide or baking soda, common ingredients that can lead to sensitivity.
Brushing your teeth too hard: Using a hard-bristled toothbrush or brushing with too much force can wear down your tooth enamel over time, exposing the tiny canals that lead to the nerves inside of your teeth. This leads to discomfort and sensitivity when your teeth are exposed to anything hot, cold, or acidic.
Gum disease: Untreated gingivitis and gum disease can cause your gums to recede, which means that they start to pull away from your teeth. This exposes the tooth roots and causes you to feel pain and discomfort when eating and drinking.
Grinding or clenching your teeth: Although tooth enamel is quite strong, it can wear down if you grind your teeth frequently. Over time, this can expose the dentin layer, allowing irritating substances to reach the nerves in your teeth.
Dental procedures: If you've had a recent dental procedure, such as a root canal, tooth extraction, or crown placement, it's normal to experience tooth sensitivity. Contact your dentist if you're still experiencing sensitivity weeks after a dental procedure.
Cracked or chipped teeth: A tooth that's cracked or chipped makes the sensitive nerves deep inside the tooth easily accessible, causing pain and discomfort. See your dentist right away if you have a cracked or chipped tooth.
Tooth decay: Cavities can expose the dentin layer of teeth, causing sensitivity and pain. If you have older fillings, it's possible for leaks or fractures to develop around the edges, allowing bacteria to accumulate. This causes acid buildup, resulting in the breakdown of tooth enamel.
Although tooth sensitivity is common, it's an issue that requires the evaluation of an experienced dentist. Schedule an appointment with a dentist in Gilbert at the first sign of tooth sensitivity.
Tips for Treating Sensitive Teeth
Tooth sensitivity is treatable, but successful treatment depends on visiting your dentist for an examination of your teeth. There are a variety of treatments for sensitive teeth, and your dentist will develop a treatment plan that best suits your needs. These are some of the treatments your dentist might recommend:
Fluoride treatment: This is an in-office fluoride treatment that strengthens tooth enamel and reduces tooth pain caused by sensitivity.
Desensitizing toothpaste: Regular use of desensitizing toothpaste can block the pain caused by tooth sensitivity. You can buy many of these products over-the-counter. Ask your dentist which desensitizing toothpaste is right for you.
Mouthguard: Wearing a mouthguard at night protects your teeth from the pressure and damage caused by tooth grinding, which can reduce pain caused by sensitive teeth.
Dental filling: A dental filling treats tooth sensitivity caused by cavities. Replacing an old or fractured filling can also treat tooth sensitivity.
Gum graft: A gum graft is a surgical procedure that replaces lost gum tissue from the tooth root, protecting it from further damage and reducing sensitivity.
Root canal: Root canal therapy is considered as a treatment option when your tooth sensitivity is severe and is related to a decaying tooth that cannot be repaired with a filling.
How Can I Prevent Sensitive Teeth?
Ensuring that you practice good oral hygiene at home is the best way to prevent sensitive teeth. Brush at least twice a day and floss daily. Schedule dental cleanings and exams twice a year at your dentist's office. Follow these tips to reduce your risk of sensitive teeth:
Avoid mouthwash with alcohol and choose a neutral fluoride rinse instead.
Brush your teeth gently with a soft-bristled toothbrush.
Use toothpaste for sensitive teeth.
Avoid acidic foods and drinks, such as lemons, tomatoes, coffee, and tea.
Rinse your mouth with water to neutralize acids after eating and drinking.
Schedule an appointment with your dentist today to learn how to reduce tooth sensitivity.