Basic Dental Care in Gilbert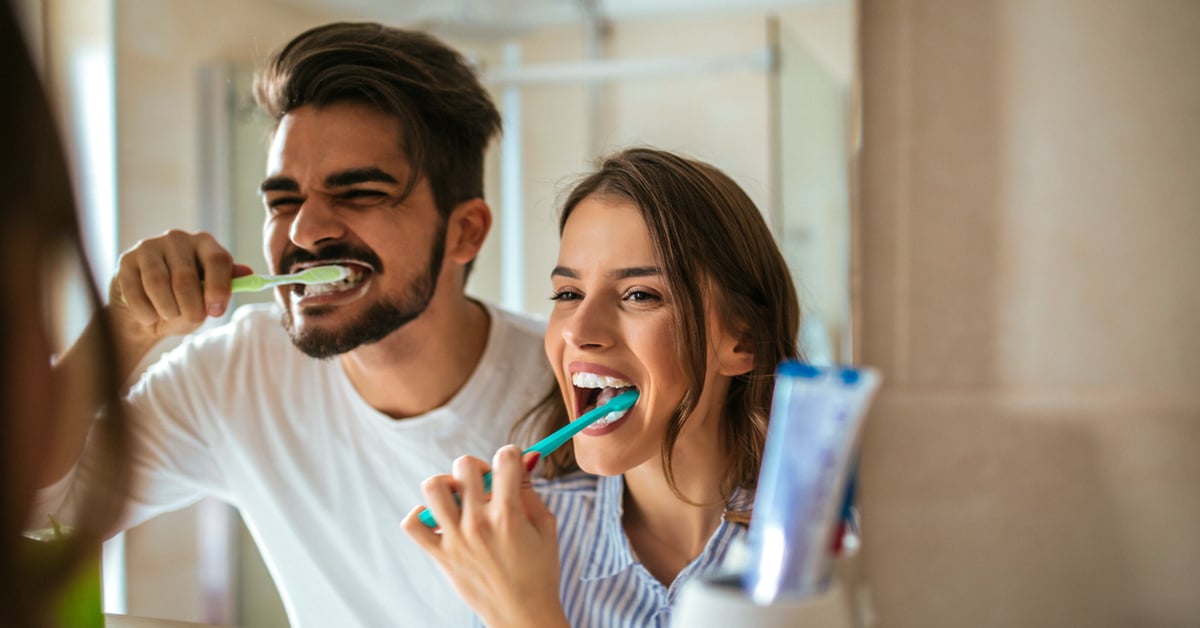 How do you go about improving your oral hygiene? It's a process that takes time and it's something that you have to work on every day. That's why it's so important for you to have a daily routine that works for you that you are going to stick to. The good news is that there are some tips below that you can use to get the most out of your dental care routine.
Do keep in mind, however, that you can't do it alone. While having a reliable dental care plan is important, you still have to visit your Gilbert dentist periodically. In fact, plan to visit twice a year for checkups and cleanings. After all, there's no way to professionally clean your teeth from home the same way that your dentist can.
Brushing: Do It Twice a Day
There are many tips that we could start off with in regard to creating a good dental care routine. However, it's best to start with one of the most important things you can be doing: brushing your teeth twice a day.
Everyone should be brushing their teeth after every meal. With our busy lives, though, not everyone can take the time to do that. As an alternative, you should at least make sure that you are brushing two times a day. This will help improve the health of your teeth and gums.
When you go to brush your teeth, remember that you aren't at the races. You need to take your time to properly clean them. This means that you should brush your teeth for two minutes, and make sure that you are spending an equal amount of time cleaning your whole mouth.
To help you with this, try dividing your teeth into four zones. Then, you can focus on cleaning each zone for just 30 seconds. This will help you easily reach the two-minute mark and ensure that you spend the same amount of time on each zone of your teeth.
Pay Close Attention to the Toothbrush You Purchase
Now that you are brushing twice a day, you need to make sure that you are brushing with the right tool. Far too often, people buy toothbrushes that aren't the right size or that don't have the right bristles.
For starters, make sure that you are buying a toothbrush with a small enough head on it to fit into those hard-to-reach areas of your mouth. Second, make sure that you are buying a toothbrush that has soft bristles. Harder bristles are rough on your tooth enamel and can hurt your gums. Choosing soft bristles ensures that you don't do any unnecessary damage.
Additionally, you have to make sure that you are changing your toothbrush regularly. In fact, you should be changing out your toothbrush around every three months. If you are sick or you notice that the bristles on your brush are starting to fray, then you should get a new one sooner.
Fluoride Toothpaste Is the Way to Go
Fluoride, which is a natural mineral, plays an important role in helping you keep the enamel on your teeth strong. One of the best ways to get fluoride on your teeth is by brushing with a fluoride toothpaste. When using this type of toothpaste, be sure that you don't rinse right after brushing. Give the fluoride time to sit on your teeth.
The stronger that your teeth are, the more resistant that they will be to cavities. That's why you want to find even more ways beyond toothpaste to get fluoride into your daily dental care routine. One option is to use a fluoride rinse at night. Doing so gives the fluoride all night long to sit on your teeth and toughen up the enamel.
It's Flossing Time
When you visit your Gilbert dentist for a checkup, the hygienist will probably ask if you have been flossing. That's because flossing is a very important part of a good dental care routine. The truth is that you should be flossing your teeth every day.
Flossing helps to remove all of the food and plaque that gets stuck between your teeth. The area between your teeth is typically hard for toothbrushes to reach. As a result, you have to use floss to get in there and remove this food and plaque.
Now, you might be wondering which is the best type of floss to use. Should you go with traditional string floss or a water flosser? The truth is that it really doesn't matter that much. As long as you are flossing every day, you can use whichever method you like the best.
Keep Your Breath Smelling Fresh With Mouthwash
One of the main reasons why people use mouthwash is to keep their breath smelling good. That being said, why does it help keep your breath so minty smelling? That's because of its antibacterial properties. These same properties make mouthwash ideal for promoting gum health.
That's right, mouthwash isn't just good for staying fresh. It's also good at keeping away serious gum diseases, like gingivitis. When you reach for a little mouthwash, it will help you keep your gums feeling good.
Stay Clean On the Go
Just because you aren't at home doesn't mean that you shouldn't worry about your oral hygiene. In fact, there are little tips that you can use to promote good dental health even when you aren't at home. Keep in mind, however, that these tips don't replace a good oral hygiene routine.
Firstly, when you are done eating, try rinsing your mouth with water. This helps to remove leftover food particles from your mouth. While it's not as good as brushing, it does help to clean your mouth some.
Do you want to do more? Try to chew some sugar-free gum. It helps to get your saliva flowing, which can wash away acid left behind by plaque. In a pinch, chewing gum can be a good way to clean your teeth.
The best option, however, is to carry a small toothbrush with you. It doesn't take up much room and allows you to brush your teeth on the go. You could easily keep such a toothbrush in your work desk or even in your car.
We Can Improve Your Oral Hygiene
Do you need help coming up with a custom oral hygiene routine? Maybe you are looking for a Gilbert dentist that puts your needs first? Give our office a call. Our friendly staff members will be happy to help you set up a time for a cleaning and checkup. Don't wait any longer to schedule your visit.